The revolutionary Altair® IGLU® Double Glazed Louvre System allows maximum ventilation through the window opening while providing high thermal performance.

The IGLU double glazed louvre is ideal for use in colder climates, or any applications that require higher levels of thermal insulation.
Maximum Ventilation
90% ventilation1 through the window opening.
Award Winning
Multi-award winning2 design due to premium asthetics and functionality.
Thermal Insulation
Low U-values of 2.6 W/m2.K. for comfortable indoor environments
Frameless Glazing
No thermally compromised framing and with blade-to-blade sealing.
90% ventilation as per the NCC Definition of a ventilation opening. Using a more conservative and realistic definition of the ventilation opening, the thicker IGLU blades will reduce the ventilation opening to approximately 80% of the total window area.
Winner of the 2023 Good Design Award and 2023 AGWA Design Award for 'Most Innovative Window System'.
Ventilation
Natural ventilation is important in any home or working environment. It helps keep the air we breathe clean and fresh, preventing mould or moisture build-up whilst maintaining a connection with our outdoor environment. The IGLU Double Glazed Louvre System opens twice as wide as other window types to offer maximum ventilation and capture breezes no matter the wind direction.
Compliant & Safe
The IGLU Double Glazed Louvre incorporates the Stronghold® System to ensure compliance with Fall Prevention requirements. It has also passed BAL-40 testing for use in bushfire prone areas. With increased acoustic performance and the low-risk pinch or edge impact hazards due to soft seal-on-seal closure make the IGLU System ideal for education environments.
Energy Performance
The 22mm IGLU Blade, comprising of 5mm Low E glazing, 12mm Argon Gas filled spacer, and another layer of 5mm Low E offers the highest thermal performance of any residential louvre. This double glazed louvre is WERS rated and is ideal for use in colder climates, or any applications that require higher levels of thermal insulation.
Enhance energy efficiency and comfort with the IGLU® Double Glazed Louvre System
The Altair IGLU Double Glazed System maximizes ventilation with wide openings and provides superior wind and water performance, while also offering improved energy efficiency and excellent thermal ratings, making it ideal for energy-efficient projects.
The IGLU Clip utilises the Breezway Stronghold® System, granting superior blade retention, with all the other benefits the Stronghold System offers. The stepped nature of the IGLU Blade allows for the internal glazing layer to be retained within the clip, while the outer glazing layer finishes flush with the clip. This allows for a completely flat aesthetic to the outside of the window.
Breezway Altair IGLU Blades do not have thermally comprimising aluminium framing. Instead, the blades are capped top and bottom by rubber blade-to-blade seals, embedded into the IGU sealant, with a clean ceramic print running the perimeter of each blade to conceal the IGU spacer, while still drawing the eye through to the view outside.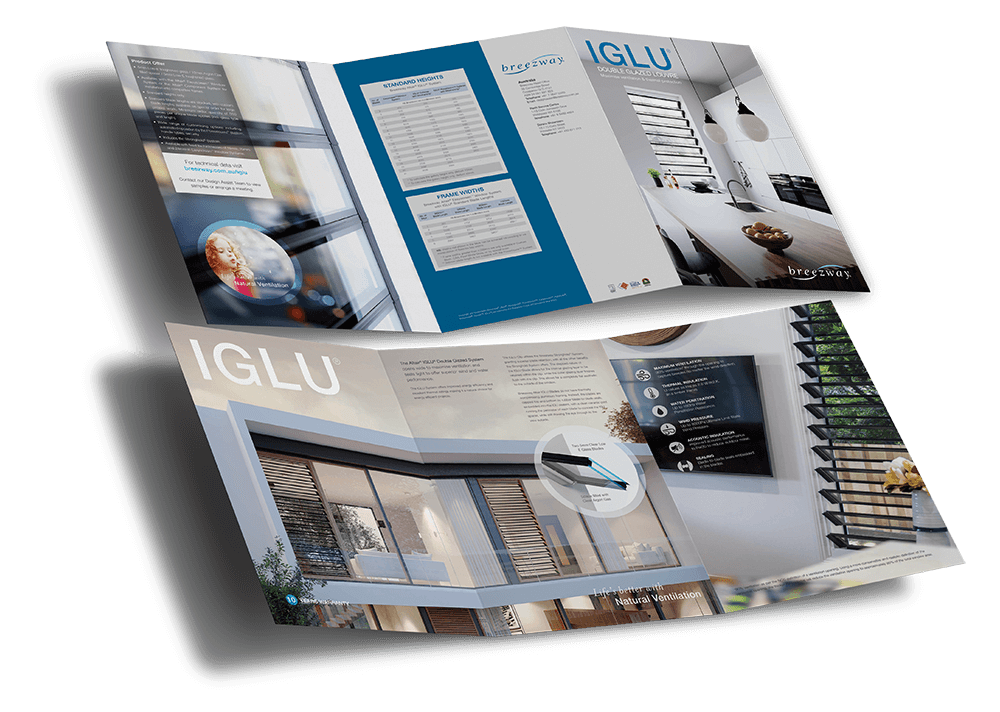 IGLU System Brochure
Double Glazed Louvre System
View PDF.
IGLU Double Glazed Louvre System
The revolutionary Altair IGLU Double Glazed Louvre System is designed to allow maximum ventilation through the window opening while providing high thermal performance for residential or commercial designs.
Standard Heights only. Please refer to the Standard Height Chart in the Design Manual.
Standard blade lengths stocked. Custom blade lengths available for large projects (MOQ 500 pieces per unique blade type and length).
Breezway Altair® Easyscreen™ Window System Frame Widths with IGLU® Standard Blade Lengths
No. of Bays
300mm2 Blade Length
500mm Blade Length
800mm Blade Length
1127mm Blade Length
All dimensions are in millimetres (mm)
1
381
581
881
1208
2
757
1157
1757
2411
3
1133
1733
2633
3614
4
1513
2313
3513
48211
5
1885
2885
43851
-
6
2261
3461
52611
-
NOTE: Widths not shown in the table can be achieved via coupling or via manipulation of fixed lite bay widths.
Frame widths greater than 4,000mm are only available in Custom Black, CAA, Pearl White Gloss, or by special order.
300mm blade length is not available with the Powerlouvre System.
5mm Low E toughened glass / 12mm Argon Gas / 5mm Low E toughened glass
Suitable with the Breezway Easyscreen Window Systems.
Altair Component System available for installation into other framing systems.
Wide range of customising options including Powerlouvre System, handle types, handle and clip colours, security.
Includes the Stronghold System. Once installed, pins cannot be removed without specialised tools. Replacement pins required upon removal.
Available with fixed lite thicknesses of 18mm, 20mm and 24mm in Easyscreen Window Systems.
Up to 450PA Water Penetration Resistance
Up to 8000PA Ultimate Limit State Wind Pressure
Rw30 Acoustic Performance
WERS Rated with U-values as low as 2.6 W/m2.K.
BAL-40 Rated
IGLU® System Product Testing
Discover how the double glazed IGLU System successfully completed its compliance testing.
The Breezway Design Manual is shown below in PDF format or alternatively can be view in a new window or downloaded using this link Breezway Design Manual
The manual contains the following relevant topics.
IGLU Blades
Window Sizes
Powerlouvre Compatibility
IGLU Louvre System in Breezway Window System Configurations
Standard Heights & Widths
Recommended Specifications
NOTE: The Breezway Design Manual is best viewed on a laptop or desktop computer. If you are viewing on a mobile or tablet device then we recommend opening the design manual PDF directly using this link Breezway Design Manual